YAMAHA YDPS54 DIGITAL PIANO
✅Compact digital piano with GH3 keys and samples of Yamaha CFX's flagship performance grand piano.
✅ CFX samples and ring speakers for richer piano sound
✅ GH3 (Graded Hammer 3), Ebony black keys, Ivory white keys
✅ Sustain resonance/string resonance
✅ Smooth release and key-off sampling
✅Integrated with iOS app "Smart Pianist"
✅New soft design and multiple color change options
✅ Headphone stereo optimization
✅ 1 92 total polyphony
✅ 3 pedals (sustain pedal with half pedal effect, specific sustain pedal and soft pedal)
A lightweight home piano that brings you an unparalleled musical feast
Whether you play the piano purely for fun or to perfect your technique, ARIUS lets you immerse yourself in the flow of music. This digital piano is a meticulously crafted instrument, perfected by over a century of Yamaha advanced technology and expertise.
Perfect for piano lovers and students, the ARIUS YDP-S54 is a lightweight, space-saving instrument that fits perfectly in any space.
Play the demo song
Authentic and expressive piano music experience
Works with Smart Pianist for unlimited functionality
Modern and stylish design
Authentic and expressive piano music experience
The YDP-S54 provides the user a grand piano experience with Yamaha CFX performance grand piano sounds and expressive progressive hammer keyboard (GH3).
The Powerful Sound of the Acclaimed CFX Performance Grand Piano
Yamaha's flagship 9-inch CFX performance grand piano samples the YDP-S54's latest sound source, delivering crisp highs and deep bass resonance combined with tones that can be projected to the furthest reaches of a concert hall. The winner of the prestigious International Chopin Piano Competition played the CFX series in 2010 and has since become one of the greatest concert grand pianos of modern times.
True Acoustic Piano Playability
With an 88-key Smart Clutch and Ivory White and Ebony Black keys, the Progressive Hammer Keyboard (GHS) reproduces the feel of an acoustic piano, the heaviness of the lower registers and the lightness of the upper octaves. The GH3 features a three-sensor configuration that accurately senses and interprets key mechanics, simulating the response and touch of a grand piano, allowing players to quickly play repetitive notes and authentically expressive control. .
Designed for your music playing pleasure
The YDP-S54 provides a handy feature when you can't keep playing the piano at high volume. The Intelligent Acoustic Control (IAC) feature automatically adjusts the tone, allowing the player to play a balanced tone at any volume.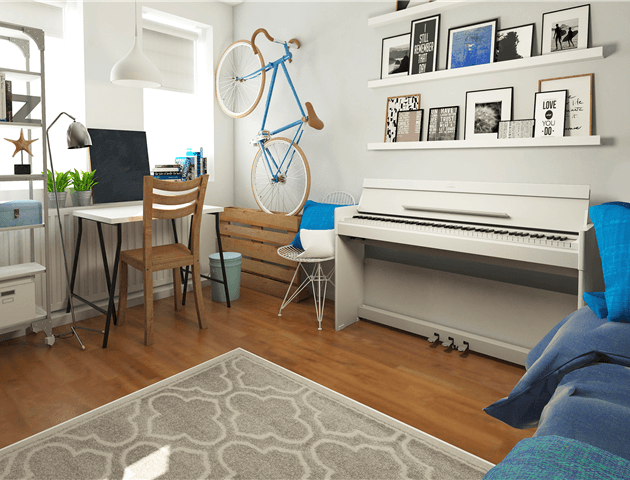 Headphone stereo optimization allows players sitting in front of an acoustic piano to experience natural, rich tones, even when wearing headphones. When using this function, the sound sampled by the acoustic piano is used as the sound from the instrument itself rather than the headphones, allowing the player to enjoy a comfortable and natural experience.
Get more out of the Smart Pianist app
Smart Pianist is a dedicated app that adds a gorgeous graphical interface and a variety of amazing features to compatible Yamaha digital pianos to make playing the piano even more enjoyable.
From choosing instrument sounds or tweaking settings to practicing with a metronome or recording your musical masterpieces, Smart Pianist lets you create music faster and have exclusive musical fun.
Acoustic piano sound audition:

Electronic piano sound audition:





Listen to other sounds:


play your favorite song
ARIUS easily matches your space
The Yamaha YDP-S54's compact and modern design blends seamlessly with interior design to complement any space's interior design. Available in three colors, you can find the perfect piano for your home and have tons of fun.
YDP-S54
YDP-S34
volume
width
1,353 mm [53-1/4"]
1,353 mm [53-1/4']
high
792 mm [31-3/16"] (976mm [38-27/64"] with key cover open)
792mm [31-3/16'] (968mm [38-27/64'] with key cover open)
depth
309 mm [12-11/64"] (317 mm [12-15/32'] with key cover open) *With drop bracket attached: 404 mm [15-57/64"]
296 mm [11-5/8'] (309 mm [12-3/16'] with key cover open) *with drop bracket attached: 388 mm [15-1/4']
weight
weight
40.0 kg (88 lbs., 3 oz.)
35.9 kg (79lbs., 2 oz.)
keyboard
number of keys
88
88
type
GH3 (Graded Hammer 3), Ebony black keys, Ivory white keys
GHS keys, matte black keys
touch-sensitive
strong/medium/weak/fixed
strong/medium/weak/fixed
foot pedal
Number of pedals
3
3
Half-press the effect pedal
Yes
Yes
Features
Sustain/Specific Sustain/Soft
Sustain/Specific Sustain/Soft
panel
language
English
English
keyboard cover
keyboard cover style
flip cover
flip cover
Music rest (may not be available for purchase depending on the location)
Yes
Yes
audio sample
piano tone
Yamaha CFX
Yamaha CFX
Damper Resonance
-
Yes
number of voices
Number of voices (maximum)
192
192
built-in
number of timbres
10
10
type
reverberation
4 types
4 types
Intelligent Audio Control (IAC)
Yes
Yes
Headphone Stereo Optimization
Yes
Yes
Damper Resonance
Yes
Yes
preset
Number of built-in songs
10 demo songs + 50 classical piano songs
10 demo songs, 50 piano classics
recording
number of songs
1
1
Number of recording tracks
2
2
data capacity
100 KB each (about 11,000 notes)
100 KB each (about 11,000 notes)
Compatible data formats
play
Standard MIDI File (SMF) Format 0 & 1
Standard MIDI File (SMF) Format 0 & 1
recording
Standard MIDI File (SMF) Format 0
Standard MIDI File (SMF) Format 0
Miscellaneous
Duo (Duo) / Voice Overlay (Dual)
Yes
Yes
Duo
Yes
Yes
Metronome
Yes
Yes
Tempo range
5 – 280
5 – 280
transposition
-6 – 0 – +6
-6 – 0 – +6
tuning
414.8 – 440.0 – 466.8 Hz
414.8 – 440.0 – 466.8 Hz
store
built-in memory
The maximum total size is approximately 900 KB (User Song: approximately 100 KB for one Song, Song data loaded from a computer: Up to 10 Songs)
The maximum total size is approximately 900 KB (User Song: approximately 100 KB for one Song, Song data loaded from a computer: Up to 10 Songs)
connect
headphone jack
Standard stereo headphone jack x 2
Standard stereo headphone jack x 2
USB TO HOST
Yes
Yes
Amplifier
20W x 2
8W x 2
trumpet
12cm x 2
12cm x 2
power supply
PA-300C or equivalent recommended by Yamaha
PA-150 or equivalent recommended by Yamaha
power consumption
13W (using PA-300C AC power supply)
9W (using PA-150B AC power supply)
Automatic shutdown function
Yes
Yes
Appendix
piano chair
-
-
sheet music
50 Classic Songs (Music Score)
50 Classic Songs (Music Score)
other
User Manual, Quick Operation Guide
User Manual, Quick Operation Guide
Tone Generation
Damper Resonance
Yes
-